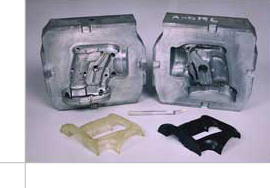 Product Showcase
Rapid prototyping and bridge-to-production of plastic parts using cast moulds.
Cast kirksite cavities from SLA models can provide excellent rapid tools for prototype and bridge to production injection moulded parts. Parts can be moulded in two to three weeks in any thermoplastic production resin, This technology has been around for many years, but with the growth of stereolithography and the need for rapid turnaround of plastic parts in the correct production material, the kirksite approach has re-emerged. More complex parts can be made using handloads. Moulding tapers are important and are best incorporated in the master file.
One of the advantages of kirksite aluminum/zinc alloy moulds is the ease of making geometry modifications by either welding or adding inserts. Another main benefit is the ability to mould most materials.
The kirksite mould cavities are normally mounted onto standard DME bases with standard injector and runner systems, or they can be used on a stand-alone basis. Heating or cooling systems can be either cast in place or added later by drilling. To keep mould costs down, the moulds are kept as simple as possible, and handloads are used instead of mechanical pullbacks and slides. Four or five handloads are not uncommon. This obviously slows cycle time and increases unit cost.
Tool-life is dependent on many factors, particularly the type of material used. Quantities of 50 to 500 are typical prototype runs, but some moulds have run up to 200,000 pieces, so this technology can supply production quantities in low volume programs.
A word of caution, because the master file must include the appropriate shrink factors for both the kirksite and plastic material. Some loss of tolerance is to be expected. The process will, however, produce parts perfectly acceptable for functional use, but not at the level of tolerance as those produced from a machined steel mould, which take much more time and money to make.