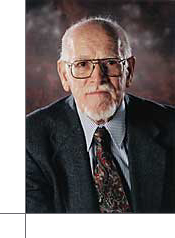 John Armstrong Honored
John Armstrong, CEO of Armstrong RM Corporation of East Syracuse, New York, has been honored as a finalist in the 2001 Ernst & Young Entrepreneur of The Year® Awards for New York State.
He also spoke recently at the Syracuse Chamber of Commerce's Entrepreneurial Forum with some highlights of his thirty plus years at the top.
His best company lessons for success include...
Getting bigger isn't a priority, getting better is.
Be the best you can for clients - they are always #1.
Be aggressive, not adversarial, with clients and employees.
Investing for the future is more important than making a fast profit.
Street smarts and common sense are more important than genius.
In manufacturing, the honeymoon is over due to competition, regulation and because top quality is the only quality.
Manage your company best by walking around and talking with employees.
Today, there are more opportunities than ever, because of technology.
People who worry about getting old should consider the alternative!
At 75 years young, John Armstrong still loves the creative challenge of problem solving the best. He considers himself fortunate that his wife of 52 years, Betty Armstrong, has handled the company financial interests to allow him to concentrate on engineering and production. Armstrong RM has 175 employees and specializes in one stop service for "Molding Craftsmanship with Technology" for prototypes to production in all types of metals and plastics. Visit their website at www.ArmstrongMold.com for a fun experience to see how Armstrong is "Breaking the Mold" in Upstate New York.