Technical Information: Graphite Die Casting for Metal Components
How, When & Why to Use It:
To produce precision and premium quality aluminum and zinc castings with the exact properties of die castings.
For aesthetic applications where appearance is critical.
Prototyping - to assist engineering in debugging design before committing to hard tooling.
For low volume applications where quantities do not justify production die cast tooling.
For castings with thin walls or where weight is critical.
To functionally test die castings prior to investing in hard tooling.
Tooling is low cost and allows ease of modification.
To reduce "time to market" on new programs and evaluate market potential.
To reduce time for machining and secondary operations.
To fill the gap if dies are lost, damaged or delayed.
To assist and reduce time for U.L. approval.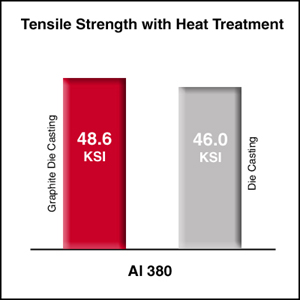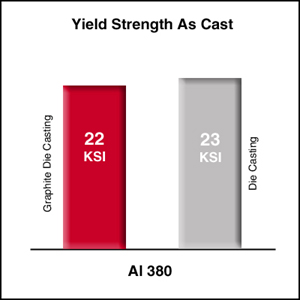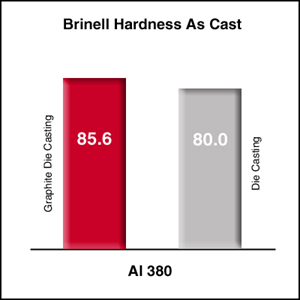 Design & Technical Information
Size
Less than 14 x 14 x 14 inches.
Finish
63 micro-inch.
Wall thickness
>0.100 inch.
General tolerances
+/- 0.005 inch plus 0.0015 in./inch
Alloys
Aluminum and zinc alloys common to die casting.
- Aluminum: 356, 380 and 390
- Zinc (Zamac): ZA-3, ZA-8, ZA-12
Draft
Same as die cast parts.
Cost
Rule of thumb for complex shapes within a 14 in. cube:
Tooling: 25-30% of die cast tools.
Piece price: 5 times die casting price.
Delivery
3 - 5 weeks for tooling
30 to 100 pieces cast per day